Dekalb White - premium performance in tests and on the range in the UK
The Dekalb White layer breed is capable of astonishing returns for producers, and it is the most popular white Hendrix Genetics layer hybrid across Europe.
Read on to discover the exceptional results achieved in Bavarian random sample tests and the story of our first Dekalb White flock to achieve 500 eggs in the UK.
Popular amongst a growing number of UK free range producers
At Hendrix Genetics, the goal is to improve the amount of saleable eggs per hen housed with every new generation of Dekalb White. Balanced breeding is key to decisions during the selection for each new generation.
For all our breeds, we look at the full picture and, with our breeding decisions, we try to improve the earnings for the egg producers with every new generation. In order to achieve this, we do not just select on total egg numbers, but we put large emphasis on outstanding liveability, premium egg quality and a readily manageable egg size curve.
As a result, Dekalb Whites are known globally for their premium performance and are proving extremely popular amongst a growing number of UK free range producers.
Responding to demand, Hendrix Genetics have increased the Dekalb White egg weight in parent stock supplying the UK market, affecting day old chick deliveries commencing in early 2022.
Outstanding performance in tests
The poultry research institute in Kitzingen, located in Bavaria, is well known for Random Sample Tests. In their 15th test, the Dekalb White was up against competing breeds, where it clearly demonstrated its outstanding performance.
One thousand female, day-old Dekalb White chicks were delivered to the poultry research institute, of which 705 were eventually housed in the laying house. The birds were reared according to local standards, and all kept with intact beaks. A step-down, step-up lighting programme was used in rearing until 18 weeks of age, after which they were moved to the laying house.
Good uniformity at 16 weeks of age
The rearing results are shown in the table below, from which it can be seen that the birds developed well, showing good uniformity at 16 weeks of age, and the total cumulative mortality of the Dekalb White until the end of rearing was just 1.6%.

The birds had a higher peak of production compared to their competitors, along with good egg laying persistency. When the flock was depleted at 72 weeks of age, the Dekalb White hens were still producing over 90% of lay on a daily basis.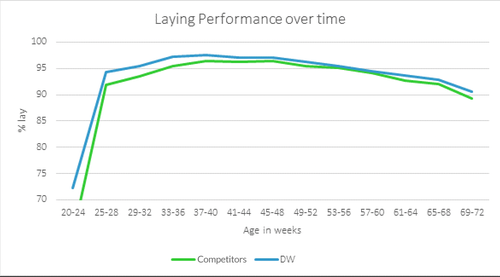 Seventeen more eggs per hen housed
The Dekalb Whites produced 17 eggs per hen housed more, while the average daily feed intake for the Dekalb was almost 4 grams lower. The Dekalb Whites show 1% less seconds, and they maintained better breaking strength towards the end of the production cycle.

During the rearing period, the Dekalb White showed better liveability, with 1.4% less mortality, and during the production period this difference became even bigger. Total mortality during the production period was 1.8% for the Dekalb White, compared to 8.5% of the competition. That is a difference of 6.7%, showing over 4 times as much mortality compared to the Dekalb.


500 Eggs in 100 Weeks at Wellington Farm, Herefordshire
Wellington Farm, in Bishops Frome, is run by Nick and Allan Panniers and, in 2020, they received an award from Hendrix Genetics for managing the first commercial UK flock of free-range Dekalb White birds to produce 500 eggs per bird, over a 100-week cycle.
Presenting the award to Nick Panniers, Jeroen Visscher of Hendrix Genetics said:
"It is fantastic to see the results of our breeding programme translating into commercial success. White birds perform extremely well in free-range and it is important to note that the longer cycles, feed efficiency and behavioural traits combine to make white birds the low carbon footprint and high welfare option."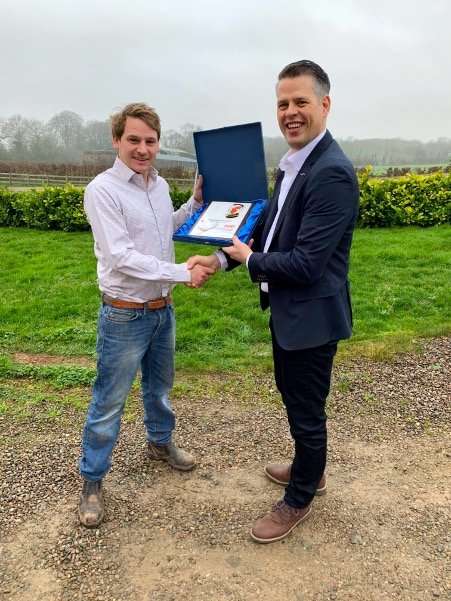 Nick Panniers with Jeroen Visscher
In 2018, Nick and Allan were offered the new contract option by Stonegate. Attracted by the challenge, they were also wary of a step into the unknown - changing from a high value to a lower value proposition, and from brown birds to white. On the suggestion of Tom Lander of Lloyds/CFP, the team from Wellington Farm met with Penny Humphrey of Joice and Hill to discuss introducing Dekalb Whites to fulfil the new contract. Nick and Allan then visited Holland, with Joice and Hill, to look at the way Dekalb Whites were being managed on Dutch Farms.
They now rely exclusively on Dekalb White and, as their recent achievement proves, they are clearly delighted with the decision.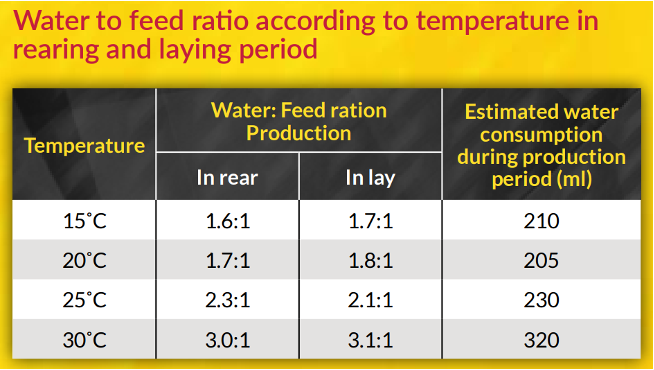 Performance data from Wellington Farm
The management philosophy at Wellington Farm is "Keep it simple".
Wherever possible, the birds are not disturbed in the afternoon and a consistent early morning routine is quickly established and meticulously maintained with the birds walked every morning at the same time, to check for feed, water and any changes to behaviour.
The Panniers mill their own feed and believe that diet changes with added fibre, Lucerne bails, and oats in ration have improved feather cover. Meanwhile they are working on controlling egg size and quality at end of lay even further by experimenting with dimmer lighting regimes.